Waterfalls are a very intriguing topic to many. It seems that even small waterfalls are beautiful and the larger ones are nothing short of spectacular. In addition, the waterfall is one of Mother Nature's ways of cleaning and aerating our water supply.
This website has become a comprehensive guide to the waterfalls in Northern New York. It includes all named waterfalls as well as many commonly named and unnamed falls that are on waterways in this region. Please view our definition page for an explanation of what we have included. We would also encourage you to read our page of disclaimers, precautions and copyright information.
We are constantly adding new falls and looking for contributors who might have photographs of waterfalls that we do not have pictures of. Please read on if you would like to have your pictures published on this website.
Get your copy now ...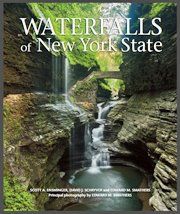 We are pleased to announce the publication of "Waterfalls of New York State" by Scott A. Ensminger, David J. Schryver and Edward M. Smathers. The north country section of the book was authored by David J. Schryver, who is the owner and manager of this website. This book is now available and can be purchased through this website. Click on the graphic for more information or to order.
Power dams are very prevalent in northern New York. At many of these sites, a waterfall still exists at the base of the dam but at some, the dam replaced the waterfall. There are even a few situations where a dam was built and the flooding that resulted covered waterfalls that were upstream. We have included these for their historical significance.
Rapids are also falling water. The difference is that rapids are not falling vertically as fast as they are running horizontally. In fact, according to many sources, including Webster's Dictionary and the Encyclopedia Britannica, many of the waterfalls in Northern New York, and in fact in many places, are actually rapids. We have chosen to include these as well because they often are also quite impressive and show the power of nature. In many cases, there are named rapids that are actually larger than some named falls. For the most part, only named rapids will be included. Many rapids carry a name that is not official but was given by the whitewater/kayak community.
When visiting any waterfall, please use caution. Although some sites listed do provide handrail or retaining devices, most do not. The majority of these waterfalls are in their natural setting where you will be experiencing the natural beauty of the region. Your safety should be a primary concern.
To facilitate use of this site, the menu in the banner above lists waterfalls in three ways:

"Listed Alphabetically" ... a separate page that provides an alphabetical list of all Northern New York waterfalls.
"Listed By County" ... a separate page that provides an alphabetical list of falls within the respective county.
"Listed By River" ... a menu driven list ... the waterways that contain waterfalls that flow directly into Lake Ontario, the St. Lawrence River or Lake Champlain, as well as the Hudson River are listed alphabetically. Within each waterway, the falls have been arranged according to their distance from the outlet. Those falls closest to the outlet are listed first. In the case of those waterways that don't flow directly into the above four waterways, they are included with the waterway they feed. If your mouse pointer turns into a hand when you hover on a name, there is a page for that waterfall. Please note that if you are using Windows 7 or 8, this menu will not function properly. The scripts that were used for this were designed to function in versions 5 and 6 when they were designed. Windows 7, and now 8, are not compatible. Efforts are being made to rectify this.

For each waterfall, a chart is provided which includes a number of items of pertinent data on the waterfall. A complete breakdown of that chart is found on our definition page. A number of pictures are provided for each site. If there are no pictures of a particular falls, we just haven't been there yet. If you have original pictures of a site that we do not yet have pictures of, we graciously accept photo submissions.
Many of the included falls are not on maps. There are, without exaggeration, hundreds of unnamed waterfalls in northern New York. If anyone viewing this has anything they feel could contribute to the cause, please do not hesitate to contact us. You may submit a waterfall, complete with pictures, for consideration by completing our Waterfall Submission Form. All contributions will be credited appropriately.
Counter set on

May 15, 2010