Directions

As you head north from the village of Keeseville toward the Ausable Chasm attraction, you will find signs for the Alice Falls Hydro Project on your right. Be aware that they are somewhat tucked in off the road and you might not see them until you are just about on them. Coming from the north, this entrance is only 0.3 mile from the Ausable Chasm attraction.
| | |
| --- | --- |
| County: | Clinton/Essex |
| Town: | Ausable/Chesterfield |
| USGS Map: | Keeseville |
| Waterway: | Ausable River |
| Latitude: | N 44o 31' 9" |
| Longitude: | N 73o 27' 54" |
| Type: | Cascade |
| Drop: | ~35' |
| Region: | Just north of Keeseville |
| Parking: | Unpaved lot |
| Trail type: | Dirt/rock |
| Length of hike: | 0.1 mile |
| Difficulty: | Easy |
| Accessibility: | Public |
| Name: | Official |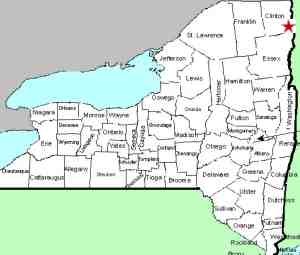 Alice Falls is a beautiful waterfall within a short walk off New York State Route 9, just north of Keeseville. There is a parking area soon after you enter, or you can drive a short distance on this dirt road between the hydro facility on your right and a trailer on the left. There is another parking area further back on your left and a fishing area on your right. Walk down the hill and you will come to the river bank where you descend a natural rock stairway to a flat area at the base of the falls.

Although there is now a hydro facility here, the waterfall still encompasses half of the width of the river. Even in the later summer months, it is an impressive sight. In the spring, when the Ausable's East and West Branches are draining the melting snow in the Adirondacks, this section of the river takes everything from above. The water coming down through here is intense.

This location is on the Essex/Clinton County Line. While the viewing access is on the Clinton County side of the river, from a purist point of view, one might say that the waterfall is actually in Essex County because the falls spans the Essex half the river while the dam is on the Clinton County side. On our county listing, we have listed it in Essex County because more of it is on that side.

We have been unsuccessful in our research to determine the source of the name of Alice Falls. Brad Knapp is the hydro-plant operator at Alice Falls. He has informed us that Alice Falls was originally known as Little Falls. This was before 180 because the J&J Rogers Mining Company purchased this property soon after that and the waterfall was already Alice Falls at that point. In fact, we have been provided with a published article that indicates that it might have been Alice Falls as early as 1823. Several parties are now researching this to determine when this happened and who Alice was.

The Ausable River empties into Lake Champlain in the town of Peru.