Directions
Take the Belfort Road from the village of Croghan to Belfort. As you approach Belfort, continue on the Effley Falls Road. At some point, the Effley Falls Road actually turns left. You want to continue straight here onto the Hogsback Road. This will end at the Soft Maple Road where you should turn left. In the area of Soft Maple, turn left on the Beaver River Road. Knowing that this is the name won't help you because it isn't labeled. There is a sign here indicating the Adsit Trail. Another marker here is a dead end sign on the road you turned off from. You will pass the Soft Maple Hydro Plant on this unpaved road and, eventually, will cross a bridge by the Soft Maple Development Area Campground. From this point, continue about 1.7 miles where there will be a dirt road on the left. You will be parallel to a penstock on your left. Follow this until you come to a small parking area on the right.
| | |
| --- | --- |
| County: | Lewis |
| Town: | Watson |
| USGS Map: | Stillwater |
| Waterway: | Beaver River |
| Latitude: | N 43o 54' 19" |
| Longitude: | W 75o 11' 48" |
| Drop: | 12' |
| Type: | Slide into a Rectangular Block |
| Region: | East of Croghan |
| Parking: | Unpaved lot |
| Trail type: | Dirt |
| Length of hike: | 5 minutes |
| Difficulty: | Easy |
| Accessibility: | Public |
| Name: | Official |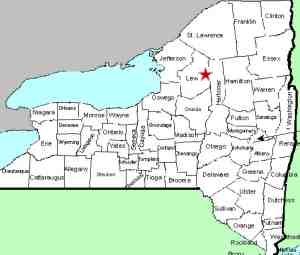 Note that this location is only about two miles beyond the Scenic Overlook Falls. Directly across from this parking area there is a set of wooden stairs leading down and under the penstock. From there, turn right and head upstream. You will come to a point where you can access the river just below the falls.
The top area of the falls slide down to a point where the river makes an abrupt left and over a cascade. At the base of this, the river makes another turn, this time to the right and the next several hundred feet are rapids. In fact, this is a fairly popular whitewater kayaking area.

We are pleased to announce that we received an email on May 30, 2017, notifying us that our application had been approved by the US Board on Geographic Names, and the name of this waterfall has been added to the Geographic Names Information System (GNIS).
The Beaver River flows into the Black River, which empties into Lake Ontario at the Black River Bay, just southwest of the village of Dexter.
Last update: June 13, 2017