Directions
From NYSR 12 in the hamlet of Depauville, turn onto Caroline Street/CR 179. Within a tenth of a mile, you will see a mill pond with a fountain on your left. You will cross a bridge which goes over the outlet of this pond. The waterfall is just a few feet downstream and can easily be seen from the walkway over the bridge.
| | |
| --- | --- |
| Town: | Clayton |
| USGS Map: | Clayton |
| Waterway: | Chaumont River |
| Latitude: | N 44o 08' 22" |
| Longitude: | W 76o 04' 03" |
| Drop: | ~ 25' |
| Type | Curtain |
| Region: | In the hamlet of Depauville |
| Parking: | Roadside |
| Trail type: | Roadside |
| Length of hike: | Roadside |
| Difficulty: | Easy |
| Accessibility: | Private |
| Name: | Official |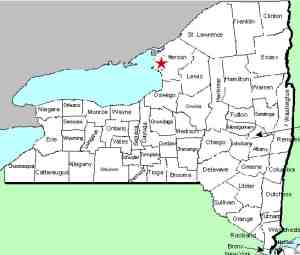 You can see over the crest of the waterfall from the bridge. In fact, there is a building at this point which appears to be an old mill of some kind. This building is actually on a small island and the falls drop on both sides of it. We weren't able to get pictures of channel left so we will return to attempt that later.
Although not posted, the property below this waterfall is private. We have an acquaintance who knows the owner and they secured permission to access the property where we got some very nice photos of the main drop from below.
Catfish Falls is located on the Chaumont River in the hamlet of Depauville. In fact, when the community of Depauville was first settled around 1816, it was called Catfish Falls.
We are pleased to announce that we received an email on May 25, 2017, notifying us that our application had been approved by the US Board on Geographic Names, and the name of this waterfall has been added to the Geographic Names Information System (GNIS).
The Chaumont River empties into Lake ontario in the village of Chaumont, just west of Watertown in Jefferson County.
Last update: May 25, 2017