Directions
From NY 12 just south of the community of Glenfield, the Lee Road will exit to the west. The first right off this road is the Lovers Lane Road. You will find these falls on the right a few hundred yards from the corner.
| | |
| --- | --- |
| County: | Lewis |
| Town: | Turin |
| USGS Map: | Glenfield |
| Waterway: | House Creek |
| Latitude: | N 43o 41' 33" |
| Longitude: | W 75o 24' 24" |
| Drop: | 45' |
| Type: | Multiple drops |
| Region: | South of Glenfield |
| Parking: | Roadside |
| Trail type: | Roadside |
| Length of hike: | Roadside |
| Difficulty: | Easy |
| Accessibility: | Private |
| Name: | Charted/Common |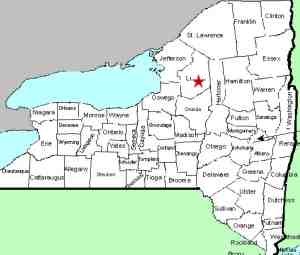 This waterfall is not officially named. It is, however, charted. If you check topographical maps, you will find this labeled as "Falls". Referred to locally as House Creek Falls due to the waterway they are on, please be advised that they are on private and posted land.
This is a two-part drop. There is a very nice view of the upper section, which we estimate at fifteen feet, from the roadside in the spring. Once foliage arrives, most of that view will be obscured.
The lower section is another story. This is close to a 30 foot cascade. You are looking over the crest but, as with the upper portion, foliage will block this one later in the spring. Our photos of this were taken with a drone.
Please note that posted signs are clearly visible. As soon as you leave the right-of-way, you are on private and posted land. Honor the landowner's property. Also, once you pass that crest, it is a healthy drop. That is probably why this area is posted. It is a long way down into that ravine!
The House Creek flows into the Black River just a few miles downstream from this location. The Black empties into Lake Ontario in the Jefferson County community of Dexter.
Last update: April 25, 2017