Directions
To get to here, travel NY 12 to Lyons Falls. Find the bridge crossing the Black River and continue on the Lyonsdale Road. Shortly after the Lyonsdale Road becomes the Marmon Road, the Hunkins Road will be on the left. This ends in a "T" on the Fowlerville Road. Go left and you will shortly cross the Fowlerville Bridge.
| | |
| --- | --- |
| County: | Lewis |
| Town: | Lyonsdale |
| USGS Map: | Port Leyden |
| Waterway: | Moose River |
| Latitude: | N 43° 37' 24" |
| Longitude: | W 75° 16' 41" |
| Drop: | ~30' |
| Type: | Segmented |
| Region: | East of Lyons Falls |
| Parking: | Roadside |
| Trail type: | Dirt |
| Length of hike: | 2 minutes |
| Difficulty: | Easy |
| Accessibility: | Public |
| Name: | Common |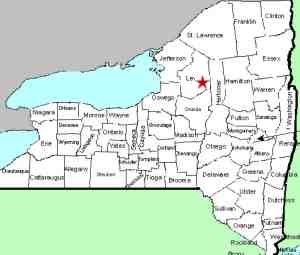 Located just downstream of the bridge there is a very nice waterfall. To get the best views of it, go north of the bridge. There is a dirt road on the left. Use caution. To call this a road is a bit generous. It is more accurately a glorified ATV trail. On our first trip, I was becoming impressed with how well my 3/4 ton Chevy pick-up was handling it. We rounded a curve and came upon a parking area of sorts. There sat a Chevy Aveo with a kayak on the roof. I couldn't believe that anyone would try this road in such a small car, let alone that he made it! On a return trip in a sedan, I used better judgment and parked a short distance in.

There is a well worn path leading to the river's edge right next to the falls. You can also follow this downstream and get some nice photos of the area.

To give you an idea of the size of this area, the last image in the array was taken from Bing Maps.
Left channel

Right channel
Fowlerville Falls is just inside the Adirondack "Blue Line". It is especially disheartening because of the condition of the area. This area is obviously a local party spot. Several places show the remains of bonfires. All kinds of junk have been discarded and burned here, including the working part of an old shop vacuum cleaner.
This stretch of the river is very popular with the kayak community. It should also be noted that on USGS topographical maps, this is referred to as Fowlersville Falls but all local references call it Fowlerville.
The Moose River flows into the Black River just a few miles downstream from this location in Lyons Falls. The Black empties into Lake Ontario in the Jefferson County community of Dexter.
Last update: April 25, 2017