Directions

From the hamlet of Minerva, take NY 28N north. At about 1.7 miles, take a left on the Northwoods Road. In a little over 6.5 miles, there is a marked camping spot where you should park.
| | |
| --- | --- |
| County: | Hamilton |
| Town: | Indian Lake |
| USGS Map: | Dutton Mountain |
| Waterway: | OK Slip Brook |
| Latitude: | N 43o 48' 3" |
| Longitude: | W 74o 6' 39" |
| Drop: | 250' |
| Type: | Ribbon cascade |
| Region: | East of the hamlet of Indian Lake |
| Parking: | Road-side |
| Trail type: | Bushwhack |
| Length of hike: | 2 miles in one direction |
| Difficulty: | Moderate to difficult |
| Accessibility: | Private |
| Name: | Common |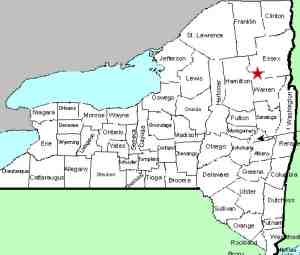 OK Slip Falls is promoted as the Adirondack's highest waterfall and "one of the tallest waterfalls in the state." Please note that the information on this page is soon to be outdated. For many years, this area has been privately owned, and only viewable from a distance, but that is soon to change. The NYS DEC has purchased a sizable amount of remote Adirondack land, including OK Slip Falls. We have reached out to one of our contacts in the DEC and are waiting for more specifics, but it looks like this area may soon be accessible. Until that time, we will stick with the info we have previously had posted.

We need to mention that four-wheel drive is necessary in the winter and probably during wet months of the year. The Northwoods Road isn't exactly a well maintained highway. It is a long, dead-end dirt road. Also, you are not actually hiking to OK Slip Falls. That is on private land and is not directly accessible. This hike is to Kettle Mountain, on the other side of the Hudson River, almost a mile to the north. You will only have distant views.

Three of these photos were provided by Vince Spadaro of Malta, New York, who took them from Kettle Mountain. He called the hike "a moderate to difficult two mile bushwhack based on ones abilities." As a point of interest, this waterfall is just less than 1/2 mile from where the OK Slip Brook enters the Hudson River. Kettle Mountain is on the other side of the Hudson, so these shots, taken with an iPhone, were from almost a mile away. The fourth photo was used by permission from ftroop1968.com, an organization that Mr. Spadaro is a member of. Our thanks to them.

About 50 yards south of the parking area, in the woods on the south side of the road is a large spruce tree where the very informal trail starts. Be advised that it is difficult to follow. Mr. Spadaro also provided these instructions to follow once you start on the trail. "Head approximately 207o true, navigating several swamps and crossing whatever beaver dam is accessible to do so. Be careful of more swamps and watch your heading. Once you see Kettle Mountain, stay to the left of it and climb until you see the gorge. Turn right for the very short scramble to the summit. Great views of Snowy and Blue Mountains are an additional reward of this bushwhack. It's about two miles of walking, more dependant on swamp encounters."

This is not a recommended trek for the faint of heart or inexperienced hiker. Not only is it a difficult trail (or lack of) to follow, it is somewhat dangerous with drops on Kettle Mountain of over 500' to the Hudson below!

The OK Slip Brook empties into the Hudson River less than 1/2 mile downstream from this location. The Hudson flows into the Atlantic Ocean in New York City.