Directions

On NY 28, proceed east from the hamlet of Indian Lake. Take a mileage reading as you cross Lake Abanakee. In 6.0 miles, old Route 28D will exit to the right. There is a parking area at this point. From the opposite direction, this point is 4.7 miles from the Hamilton/Warren County line.
| | |
| --- | --- |
| County: | Hamilton |
| Town: | Indian Lake |
| USGS Map: | Dutton Mountain |
| Waterway: | OK Slip Brook |
| Latitude: | N 43o 48' 3" |
| Longitude: | W 74o 6' 39" |
| Drop: | 250' |
| Type: | Ribbon cascade |
| Region: | East of the hamlet of Indian Lake |
| Parking: | Unpaved lot |
| Trail type: | Dirt |
| Length of hike: | 3 miles in one direction |
| Difficulty: | Moderate |
| Accessibility: | Public |
| Name: | Common |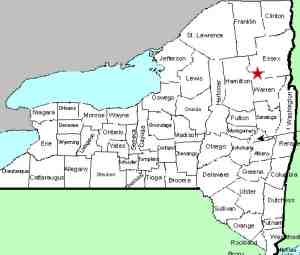 OK Slip Falls is promoted as the Adirondack's highest waterfall and "one of the tallest waterfalls in the state." For many years, this area has been privately owned, and only viewable from a distance, but that has now changed. The NYS DEC has purchased a sizable amount of remote Adirondack land, including OK Slip Falls. The waterfall is now accessible by a DEC maintained trail. It is our understanding that it is clearly marked.

The trailhead is located about 500 yards west of the parking area and on the opposite side of the road. The acquisition of the land by the state has caused quite a bit of excitement in the hiking and waterfalling communities. It has been about 150 years since the public has been able to get into this area.

The DEC website provides a pdf file of a general trail map of this area, available at http://www.dec.ny.gov/docs/regions_pdf/okslptrailmp.pdf.

We have a few pictures provided by contributors since the state has opened up this area. Some of the pics, however, come from contributors who bush-whacked in through the other side of the Hudson River, over a half mile away, before this area was accessible.

The OK Slip Brook empties into the Hudson River less than 1/2 mile downstream from this location. The Hudson flows into the Atlantic Ocean in New York City.