Directions

Take I-81 to exit 43, commonly referred to as the Kellogg Hill exit. From the exit, head east ... a right if you were northbound and a left if southbound. Within a few hundred yards, you will intersect Route 11. The north and southbound lanes are split at this point by a large rock outcropping. Go straight across the southbound lane and turn left. You will merge into the northbound lane. Bear right and the falls will be a half mile or so up the road on your right. There are signs as you approach so it won't be hard to find.
| | |
| --- | --- |
| County: | Jefferson |
| Town: | Adams |
| USGS Map: | Watertown |
| Waterway: | Stony Creek |
| Latitude: | N 43o 53' 31" |
| Longitude: | W 75o 58' 45" |
| Drop: | 35' |
| Type: | Ribbon cascade |
| Region: | South of Watertown |
| Parking: | Roadside |
| Trail type: | Dirt |
| Length of hike: | 1 minute |
| Difficulty: | Easy |
| Accessibility: | Public |
| Name: | Official |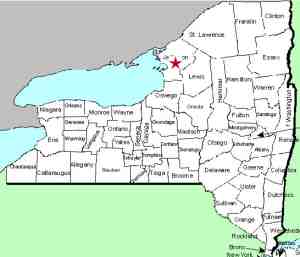 Talcott Falls is certainly one of, if not the most popular waterfall in Jefferson County, New York. It is within sight of New York State Route 11, a few miles south of Watertown. In fact, you don't even have to get out of your car to get good pictures. It is the only waterfall in Jefferson County listed on the USGS GNIS.

The property itself is private land. In fact, you can see the family home on the hill just south of the falls.

The Stony Creek is actually one of the smallest waterways that flows into Lake Ontario that contains a waterfall. Further downstream, it flows through the village of Henderson. Its outlet into Lake Ontario is just south of Stony Point in the town of Henderson.