Directions

North of Utica on NY 12, there is a point at which NY 12 and NY 28 begin to run concurrently. At that corner, head south on NY 28. You will actually be heading east at that point. The first left is Trenton Falls Road. Follow signs to a four-way stop where you should continue to the end of the road where you can park.
| | |
| --- | --- |
| County: | Oneida/Herkimer |
| Town: | Trenton/Russia |
| USGS Map: | Remsen |
| Waterway: | West Canada Creek |
| Latitude: | N 43o 16' 53" |
| Longitude: | W 75o 9' 12" |
| Drop: | 270' total |
| Width: | NA |
| Region: | North of Utica |
| Parking: | Parking area |
| Trail type: | Crushed stone/wood chip paths |
| Length of hike: | 1 - 1.5 hours |
| Difficulty: | Moderate |
| Accessibility: | Public |
| Name: | Common |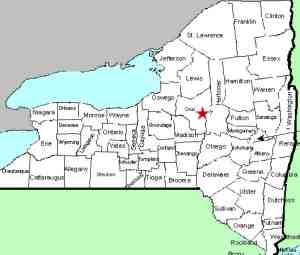 This is a truly magnificent site. Nature and the West Canada Creek have worn a large gorge through this area. There are several on-line sources that claim that this area at one time "nearly rivaled Niagara Falls in terms of tourist magnetism." It is still publicly accessible, but is only open two or three week-ends each year. The Town of Trenton website should be consulted to find those dates.

Now a major hydroelectric project area, there are still a number of magnificent waterfalls here. The area is divided into several drops. The 60' tall Morgan Dam is the furthest downstream, but that is actually below where the walking tour begins. As you head out on the trail, you will encounter Sherman Falls then the two-tiered High Falls, which are identified as Lower High Falls and Upper High Falls. These drop a total of 100 feet. Above that is the 14' Mill Dam Falls and at the very upper part of the area is the Upper Hydro Dam and Falls.

This is a very nicely maintained area with finely crushed stone paths and wood mulch side trails that allow views of the waterfalls and the gorge. The one down-side is that the area is open on a limited basis. On the plus side, we were pleasantly surprised that there was no fee to access the facility. We had been led to believe that there was an admission. When we were there in April 2013, only a portion of the waterfalls could be viewed. A rock-slide several months before had blocked the upper trail and you couldn't go beyond High Falls. We could see Mill Dam Falls and Hydro Falls from the Upper High Falls viewing area, but you couldn't get to those viewing areas. You also couldn't see the hydro dam at the top. There was no estimated date at which time this slide could be cleared so that upper access could be restored. Because of the abbreviated nature of this trip, even though we were taking our time, we were actually in and out of there in less than an hour.

There is much history and nature at this location and much can be written about it and has been. There are many on-line sources with information and stories about this area. We will let our pictures tell the story. Rather than reinventing the wheel, please refer to some of the info out there such as Discovering the Valley of the Crystals, a well-done story of the history of Trenton Gorge, complete with pictures. This is by no means the only resource out there. A web search will turn up many options.

The West Canada Creek empties into the Mohawk River, which then flows into the Hudson before reaching the Atlantic Ocean.